The Fuzz - The Fuzz
(Munster Records / Sonic Rendezvous)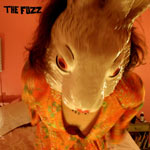 De smerigste rock 'n roll komt natuurlijk uit Memphis, Tennessee en te midden van illustere stadgenoten als The Oblivians en wijlen Jay Reatard slaan de leden van het nieuwe projectje "The Fuzz" van cultfiguur Harlan T. Bobo* bepaald geen slecht figuur. Op hun gelijknamige debuutplaat jassen ze er in 31 minuten 11 staaltjes volledig van alcohol en sigarettenwalm doordrenkte viezigheid doorheen. Dat hebben we natuurlijk vaker gehoord. The Fuzz weet er dan wel geen originele draai aan te geven, maar dwingt toch in ieder geval respect af voor het tentoongespreide vakmanschap. Met zoveel zelfgestookte whiskey achter de kiezen is het immers op zijn minst al een wonder dat de leden van The Fuzz nog op hun benen kunnen blijven staan, laat staan dat ze nog in staat zijn tot het spelen van dit soort strak voortdenderende garagerock.
Ook weten ze wel raad met een catchy popdeuntje of twee: het grootste deel van deze plaat is zonder meer aanstekelijk en meezingbaar en zou, als iemand er even met een doekje overheen zou gaan om vochtkringen en gemorste as weg te vegen, zonder enig probleem op de radio gedraaid kunnen worden. Wel is het daardoor allemaal wat minder spannend dan in dit genre eigenlijk de bedoeling is: echt een keertje lekker ontsporen doet The Fuzz nergens. De band werkt zich dapper door zijn
setlist
heen en strompelt daarna naar de bar zonder ook maar een keer over een barkruk te struikelen. Jammer. Beluister dit clipje via
Facebook
.
(* of niet: over 's mans deelname aan dit project doet hij zelf in ieder geval nogal geheimzinnig)