Swans - The Seer
(Young God records / De Konkurrent)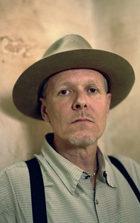 Muziek die tot doel heeft de luisteraar bang te maken, slaag daar eigenlijk nooit in. Het gebrul van metal-zangers is gewoon potsierlijk en zelfs aan het overdonderendste lawaai wen je als luisteraar in de regel tamelijk vlot. Zit het niet ook gewoon goed in elkaar, dan kan de meeste zelfbenoemde extreme muziek over het algemeen behoorlijk snel worden verwezen naar de prullebak.
Een uitzondering is het werk uit de vroege jaren tachtig van Swans. De monotonie, het gebrul en het schurende gepiep op
Cop, Young God
en
Holy Money
leveren ook na dertig jaar een angstaanjagende luisterervaring op. Je gelooft meteen dat deze band daadwerkelijk op het punt staat je naar de keel vliegen en zelfs voor de geharde luisteraar is dat niet aangenaam. Ook het zojuist verschenen
The Seer
is vooral geschikt voor sterke magen. Zanger Michael Gira brult weliswaar minder akelig dan hij in de jaren tachtig deed en de gitarist laat de ergste feedback tegenwoordig achterwege. Toch produceren Swans ook in 2012 een naargeestig soort massieve dreun waardoor je als luisteraar binnen de kortste keren alle wil om verder te leven verliest.
Wel heeft de band zich in de tussentijd ontwikkeld. Vanaf
Children of God
(1987) leek het ineens wat muzikaler te worden. Michael Gira bleek te kunnen zingen en ook instrumentaal werd het allemaal een stuk diverser: soundscapes, drones, donkere folk, het kwam allemaal voorbij. Voorlopig hoogtepunt van deze ontwikkeling was het meer dan uitstekende
My Father Will Guide Me Up A Rope To The Sky
uit 2010. Eigenlijk lag het in de lijn der verwachting dat Swans deze ontwikkeling richting een steeds groter wordende muzikale diversiteit op
The Seer
zouden voortzetten.
De band besloot anders. Ja, er staat een enkel lieflijk liedje op deze driedubbelelpee (!), er komen allerlei exotische instrumenten op voor en de gitarist laat duidelijk blijken meer te kunnen dan gierende uithalen produceren. Toch bestaat de hoofdmoot van
The Seer
uit hetzelfde logge, zware gestamp dat we kennen uit hun beginperiode. Doordat ze echter aanmerkelijk beter zijn gaan spelen, is
The Seer
geen een muzikaal curiosum, zoals
Cop
of
Young God
dat waren, maar een zeer geslaagde plaat vol bombastische sfeermuziek die uitermate geschikt is voor de donkere herfstavonden die binnenkort komen gaan. Aanrader! De plaat is geheel te horen in de
Soundcloud
.