Public Service Broadcasting - Inform Educate Entertain
(Test Card Recordings / Konkurrent)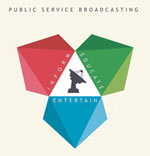 Public Service Broadcasting brengen ons even terug naar begin jaren negentig, toen invloeden van hiphop, rock, breaks en Jean Michel Jarre samen kwamen in Big Beat (zoals dat toen heette). Groepen als The Aloof en Apollo 440 plunderen vervolgens de dialogen uit jaren zestig en zeventig cultfilms en maakten er een soort hoorspel op rockmuziek van. De dansavonden op het Filmfestival Rotterdam waren nog nooit zo leuk, met DJ's (waarvan ondergetekende) die films van Russ Meyer, fragmenten Star Trek en passages uit Vampiros Lesbos ondersteunden met dampende beats.
Twintig jaar later herontdekt het Britse PSB deze voetnoot in de dansgeschiedenis en kijkt of ze er zelf nog wat aan toe kan voegen. Gelukkig kun je met een concept waar alles zo ongeveer geoorloofd is alle kanten op. Drummer Wrigglesworth knalt er een strakke beat in en knoppendraaier J. Willgoose leukt de boel op met gruizige gitaren, vette bassloops, soundscapes en een blik vage dialogen uit vergeten thrillers, porno flics, modeshows en cowboyfilms. Speciaal voor Nederland hebben ze zelfs een nummer in elkaar geklust met historisch materiaal van de
Elfstedentocht
. De hamvraag is natuurlijk of de wereld hier nog op zat te wachten. Net als twintig jaar geleden is het muzikaal vooral lekker en grappig en is het de ultieme snack voor liefhebbers van alternatieve dansmuziek. Het is opzwepend, goed in elkaar gezet en heeft net dat groezelige rockrandje. Maar veel diepgang heeft het niet. Ach, een kniesoor die daar een probleem van maakt op een vrolijke avond in downtown Rotterdam of op Eurosonic. Beluister nog een fragment in
YouTube
.